Here at Care Opinion, we are all about learning, sharing and collectively improving the experiences of those involved in health and social care. This includes you, no matter where you fit in!
We are passionate about hosting events because they provide a unique opportunity for us to connect with individuals like you. It's a chance to delve deeper into the essence of Care Opinion, to share our vision, and most importantly, to gain invaluable insights directly from those who use our platform.
You can browse through the list below to discover our upcoming events.
If you have any questions about our events, please contact info@careopinion.org.uk for further details.

Care Opinion Ireland: What's happening and where to next?
Thursday, 2 November 2023, 1pm - 3.30pm
Care Opinion is inviting all those interested in online feedback across Ireland to attend this exciting Webinar event which brings together contributions from Scotland, Northern Ireland as well as services in Donegal and Sligo/Leitrim.
This is a great opportunity to find out what is happening now in services using Care Opinion and is also a chance to learn about opportunities for the future. There will be updates from staff working in services in Donegal and Sligo/Leitrim. This will be followed by Angie McManus from Perth and Kinross Health and Social Care Partnership in Scotland. We are also delighted that Linda Craig, from the Public Health Agency in Northern Ireland, is sharing her experiences and learning from rolling out Care Opinion across the region's NHS Trusts, as a whole system approach.
In this free half-day online event/webinar via MS Teams and will be informal and plenty of opportunity to ask questions. We hope this event will be informative and inspiring, so do join us!
Register:
Further details and registration for this webinar
Autumn Online Conference 2023
Caring for Care: How Online feedback is helping healthcare get better
Thursday, 16 November 2023, 9am - 1pm
Join us for an engaging half-day conference with the theme of 'Caring for Care' featuring an interesting mix of sessions designed to inspire, inform, and connect.
Further information about the conference and registration will open in the coming weeks.
Register:
Further details and registration for this webinar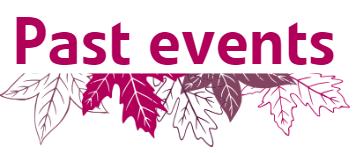 Research Chat 20
Using Care Opinion to explore public attitudes to our health service: potential and pitfalls
Tuesday, 19 September 2023, 4pm
For our 20th research chat we welcomed Dr Ellen Stewart, whose new book How Britain Loves the NHS has just been published by Policy Press.
Ellen's blog post sets the scene for our chat: How we love the NHS.
We discussed what stories shared on Care Opinion can teach us not just about experiences of care, but also about the complex and often contradictory feelings people have about the NHS itself. This is covered in chapter 6 of the new book.
Learn more:
Policy Summit 2023
What's the value of online patient feedback to healthcare policy and strategy?
Thursday, 5 October 2023, 2pm - 5pm
Online patient feedback, as mediated through the national platform Care Opinion, has turned out to be both information for, and intervention into, the healthcare system.
As online feedback becomes normalised across health services, this raises a new question: is online feedback relevant only at an operational level, or also at a strategic and policy level?
In this half-day webinar we will explore what we already know from research about Care Opinion as information and as intervention, and explore how it is already being used to support system-level initiatives in Scotland and Northern Ireland.
The webinar is hosted by the Person-centred Care Team in the Scottish Government, in partnership with the Northern Ireland Public Health Agency and Care Opinion.
Learn more:
You can read the blog and watch recordings
Research Chat 21
Can positive patient feedback help improve healthcare? Results of a systematic scoping review
Thursday, 12 October 2023, 4pm
Many health care professionals believe that while critical patient feedback may help improve services, positive patient feedback has no such value. But is that really true? In this, our 21st research chat, we welcome Dr Stefan Rennick Egglestone, who has recently led a review of research on this issue (in press with Plos One). We'll be discussing what the 68 papers in the review can tell us about the real value of positive patient feedback to staff and services.
Learn more