Care Opinion and Journalista shortlisted for PRCA award
We're proud to announce that our PR agency Journalista have been shortlisted for a PRCA award, for the work they did on the Care Opinion re-launch campaign in January this year. Together we have been shortlisted for the Evaluation Award.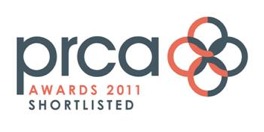 New to the PRCA Awards this year, the Evaluation Award, looks at how a PR campaign makes a 'significant contribution to the organisation' and it measures how the outcomes 'demonstrate an improvement in customer satisfaction, brand awareness or reputation, an uplift in sales, participation in a campaign or enquiries about a product or service.'

Care Opinion media officer Kate Ebbutt reflected on the nomination

"We're really pleased with the work that Journalista did on the campaign, and are proud that their work, and the success of the campaign, is being recognised through this nomination"

The winners will be announced at a special ceremony on 15 November so cross your fingers for us!
7th November 2011