Join the team in Stirling
We are going from strength to strength in Scotland and on our way to realising our vision of being the place where people can share their experiences of health and social care services making it easy for staff to see what's going well and what could be improved.
The significant rise in use of Care Opinion has been identified by the Scottish Government as one of the key contributors to progress around the person centred care quality ambition. Care Opinion has become an integral part of the feedback landscape across health in Scotland.
Our ambition now is to extend the opportunity Care Opinion brings to anyone using health and social care services across the country. We have lots of work to do and we're looking for new people to join the Care Opinion team in Stirling!
Could it be you?
Who do we think would be a good fit for these jobs and our organisation? We know you probably love what you do now (that's good we want people to enjoy their job and have fun.) We think people might often ask you, "where do you get your energy?"! You probably enjoy a varied role and a good bit of autonomy in order to get things done. Do your colleagues describe you as resilient, persistent and possessing "terrier like qualities"? You approach obstacles with lateral thinking and a problem solving approach. You're probably quite an organised person and like ticking things off your to do list. Perhaps your colleagues describe you as being able to think on your feet and having a lovely way with people?You laugh a lot! Does this sound like you?
Our team
This word cloud is made up of things that your prospective colleagues say makes them proud to be part of Care Opinion. We did this at our last team development day in May - we have these regularly.
Read more about the team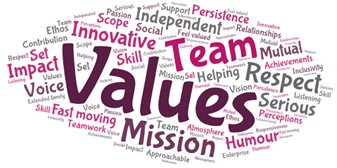 The jobs
Development Officer role
Pivotal in helping to achieve the vision in Scotland! This role is pivotal in both developing our existing service and extending our work further across Scottish health and adult social care services.Your role is to:-
develop and expand the use of Care Opinion by engaging health and social care organisations;
support local implementation of Care Opinion with health and care staff & teams;
develop new contacts and create networks.
Take a look at the job description/person specification for this role.
Engagement and Support officer role
A key cog in our small but perfectly formed wheel! Your role is to:-
provide an unfailingly positive customer service experience to everyone who comes into contact with Care Opinion and;
Encourage our existing subscribing organisations and staff, helping them to navigate and make the most of all Care Opinion's fantastic features;
Support our newbie subscribing organisations and their staff at the start of their Care Opinion journey.
Take a look at the job description/person specification for this role.
Want to apply?
Great! Drop us an email with your CV to gina.alexander@careopinion.org.uk or give us a call on 01786 235984. We'd love to chat. We might also ask you complete the online application form.
Look forward to hearing from you.